3th Conference of AGPFMSEE in Belgrade , Serbia
From: 11 April 2013 To: 14 April 2013

"THE ROLE OF GENERAL MEDICINE-FAMILY MEDICINE DOCTOR BETWEEN NEEDS AND POSSIBILITIES"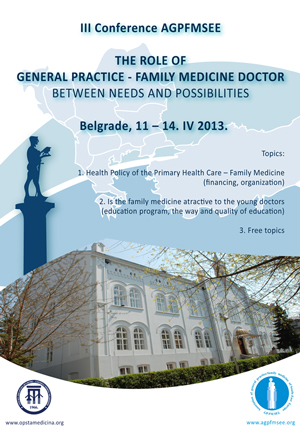 III Conference AGPFMSEE
Belgrade, Hotel "Metropol" 11.–14.april 2013.
"THE ROLE OF GENERAL MEDICINE-FAMILY MEDICINE DOCTOR
BETWEEN NEEDS AND POSSIBILITIES"
Topics:
1. Health Policy of the Primary Health Care – Family Medicine (financing, organization)
2. Is the family medicine atractive to the young doctors (education program, the way and qulity of education
3. Free topics
Abstract should be submitted before 15.02.2013.exclusively in electronic form, through the: www.opstamedicina.org
One person can appear no more than twice as author and twice as coauthor of the paper.
Registration fee totals 150 €
Condition for presentation of the paper is payment of the congress fees before 15.03.2013
Fee exemption for students includes certificate of attendance but does not include conference materials.
The registration fee includes congress materials, attending all congress sessions and festive dinner on 13.04.2013.
How to submit the abstract
Abstracts will be considered for presentation only if the following conditions are fulfilled
Abstract must be in English or Serbian and submitted only via the online form
To submit an abstact please go www.opstamedicina.org
Abstract Guidelines
1. The title should be brief, clearly indicating the nature of the study.
2. Maximum 350 words.
3. Abbreviations are allowed but must be clearly defined.
4. The number of references is limited to five.
5. Abstracts must not contain illustrations nor tables.
6. Abstract must be organised as follows:
– purpose of the study;
– materials and methods;
– results presented in sufficient detail to support the conclusions;
– conclusions;
– key words;
7. Drugs should be mentiond excluisively by international nonproprietary names
8. Papers regarding effects of the drugs shall not be considered
9. Required size for posters is 110 x 90 cm
         Instruction for payment orders in favor of legal entities in EUR
Intermediary Bank/ Correspodent bank
SWIFT – BIC                     DEUTDEFF
Name                                  DEUTSCHE BANK AG
City, Country Street            FRANFURT AM MAIN, GERMANY
Account with Institution / Beneficiary`s Bank  
SWIFT – BIC                    KOBBRSBG
 Name                                  KOMERCIJALNA BANKA AD BEOGRAD
Street                                   Svetog Save 14
City, Country                      11000 Belgrade, Republic of Serbia
Beneficiary                         
IBAN/ Account Number     RS35205007390001894856
Company name                    "Srpsko lekarsko društvo"
Street                                    Džordža Vašingtona 19
Street                                   Beograd, REPUBLIC OF SERBIA
Application for accommodation and transfer HERE